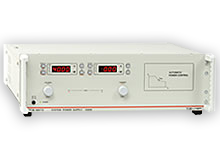 High performance and easy-to-use
An output power up to 1500 W is provided by the power supplies belonging to the TOE 8871 and TOE 8872 series; at the same time, output voltages can be generated up to 400 V and output currents up to 100 A depending on the model.
As a result of state-of-the-art switching controller technology and proven microprocessor control, these devices are suitable for completely universal application.
Together with a high effi-ciency, the power supplies are characterized by permanent load resistance, autoranging and a low weight.

PFC
A highly effective power factor corrector (PFC) ensures that the TOE 8871 and TOE 8872 power supplies react with respect to the mains source like a resistance without any capacitive, inductive or non-linear components whatsoever. The mains current input is therefore sinusoidal, in-phase with the line voltage, and thus free of reactive current components.

Easy-to-use
The devices are extremely easy-to-use, and the specifications are exceptional. Superb processing quality together with a large number of special functions mean that the power supplies of the TOE 8871 and TOE 8872 series can be counted among the very best currently available.

Integrated measurement
A further significant characteristic is the high-resolution measurement of the voltage, current and power values; these are output on 4-digit LED displays and can be read at a high rate in bus mode. This means that additional measuring instruments are usually superfluous.

Adjustment using incremental spinwheel
The output values are set using a wear-free incremental spinwheel with selectable sensitivity, thus guaranteeing reliable, exact setting of the output voltage, current and power even after many years of use.

Remote control: GPIB, RS 232 and analog
All devices can be remote-controlled as standard in analog mode, and optionally via GPIB and RS 232 interfaces with the standardized SCPI command set (SCPI: Standard Commands for Programmable Instruments). The system interfaces are characterized by a high setting rate and a high measuring rate. In addition to this, device driver software under "LabView" is also available. Furthermore, all devices can be controlled at high precision via an electrically isolated analog controller (option).
Ethernet/LAN interface
For the TOE 8871 and TOE 8872 series power supplies a RS 232 Ethernet-Adapter is available to control the power supply remotely over LAN. The Ethernet-Adapter provides a TCP / UDP port to transmit SCPI commands to the power supply. An integrated web server allows easy access to the device to check the connection or to reconfigure the adapter. The ethernet adapter is preconfigured for the instrument and can be used in most networks without additional configuration.
Automatic calibration
Fast and convenient calibration of all output parameters is possible externally within a few minutes without having to adjust any trimmers or make any interventions in the device. This "Autocalibration" can be carried out simply using the control elements or with computer support within a test system. An autocalibration function provides significant advantages, particularly when considering the increasing importance of regular calibration intervals as a result of quality assurance systems.

Voltage source, current source and automatic power contro
Depending on the set values for voltage, current and power, each power supply can be operated, depending on the load conditions, as a constant voltage source, constant current source, or as a source with a constant output power.

Special features
Autorangin
Active PFC
High rise and fall rates
High endurance, even under extreme load conditions
Best EMC characteristics; residual ripple 5 mVrms up to 10 MHz, optional 1 mVrms
Low interference voltage, approx. 1 mVeff (optional)
GPIB-, RS 232 interface (optional)
Analog interface as standard
Floating analog interface with monitor outputs for voltage and current (optional)
Arbitrary function (option)
Brief load current 1.5 x Irated for approx. 20 ms (optional)
Sensing
Can be used as constant voltage, constant current and constant power source (CV/CC/CP)
Extremely quiet thanks to excellent thermostatically controlled fan technology
Master/slave operation
Free LabViewTM-driver
| | | | |
| --- | --- | --- | --- |
| 1000 W | Voltage | Current | Power |
| TOE 8871-40 | 0 - 40 V | 0 - 50 A | 1000 W |
| TOE 8871-60 | 0 - 60 V | 0 - 35 A | 1000 W |
| TOE 8871-80 | 0 - 80 V | 0 - 25 A | 1000 W |
| TOE 8871-130 | 0 - 130 V | 0 - 16 A | 1000 W |
| TOE 8871-200 | 0 - 200 V | 0 - 10 A | 1000 W |
| TOE 8871-400 | 0 - 400 V | 0 - 5,0 A | 1000 W |
| | | | |
| --- | --- | --- | --- |
| 1500 W | Voltage | Current | Power |
| TOE 8872-40 | 0 - 40 V | 0 - 100 A | 1500 W |
| TOE 8872-60 | 0 - 60 V | 0 - 65 A | 1500 W |
| TOE 8872-80 | 0 - 80 V | 0 - 50 A | 1500 W |
| TOE 8872-130 | 0 - 130 V | 0 - 25 A | 1500 W |
| TOE 8872-200 | 0 - 200 V | 0 - 15 A | 1500 W |
| TOE 8872-400 | 0 - 400 V | 0 - 7,5 A | 1500 W |
Autoranging
The TOE 8871 and TOE 8872 series are extremely rugged highperformance power supplies with autoranging up to 1500 W.
Just one unit of this series provides what otherwise has to be covered by several powerful power supplies of different voltage/ current versions: low voltage range with increased current, extended upper voltage range with low current. This is easy to understand using the example of the TOE 8872-40: the instrument delivers 40 V or 100 A. For a square characteristic, either a 4 kW unit with 3-phase connection or two single units with different voltage/current versions would be required.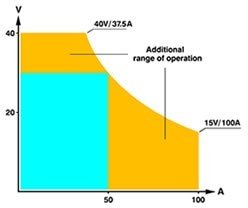 Autorange TOE 8872-40
Extremely quiet
The intelligent, thermostatically controlled fan technology with integrated, extremely quiet fan means that the units are extremely suitable for laboratory workstations. Optimum cooling of the units is thus provided in addition, resulting in an extension of the service life on the one hand and guaranteeing of a high endurance even under extreme load conditions on the other.

Brief load current
With the TOE 8872-40 and TOE 8872- 60 models, the TOE 8871/022 option allows a brief increase in the output current by approx. 50 %. Thus approx. 150 A or 100 A can be drawn for 20 ms.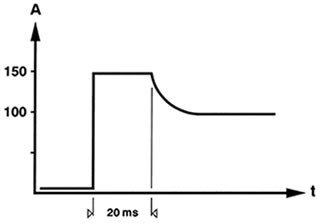 High regulation rate
The superb regulation rate makes these units the masters in their class. In contrast to other switched-mode power supplies, the TOE 8870 series permits generation of voltage/current curves at high speed without reducing the output capacitance.
This would result in overvoltages and current peaks at the output and destroy the device-under-test. A wide range of curves can therefore be generated via the analog control, e.g. as required in the standards of the automotive industry.
Simulation of the starting curve (cranking) of a vehicle is thus possible without problem.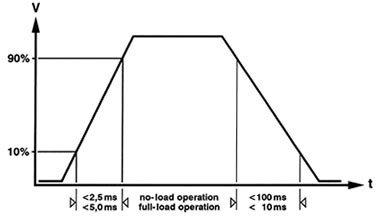 Extremely short rise and fall times of the output voltage – also at no-load (TOE 8872-40)


Master/slave operation
Up to three units from the same series can be operated in parallel to increase the output power without limitations in the regulation rate or other parameters.
Optionally available parallel mounting sets take into consideration the appropriate safety standards and also provide simple data linking between the master and the slave units.

Standby/execute
A convenient detail of the functionality is the output switch-off which allows immediate switching-off of the voltage and current values to 0 V or 0 A at standby. When activating the execute key, the set or programmed values for voltage and current are present without delay. Switching over can be carried out manually, using a remote control command from the PC, by means of an external TTL signal, or via an external switch contact.

Sensor lines
An innovative sensing circuit not only keeps the power supplied to your load extremely constant, it even protects sensitive loads if there is a break in a sensor line. The sensing inputs are available at the rear and can be activated/deactivated using a key on the front panel.
Arbitrary function
The power supplies of these series can be optionally equipped with an arbitrary function (curve memory integrated in the unit). The units execute an entered curve autonomously, even without a PC connection. A burst function defines the number of desired curve sweeps.
In addition, the curve memory can be divided into up to 3 blocks. Each individual block can be used repeatedly. The advantage is to be found in the extremely efficient use of memory space.


Technical specifications
Number of steps
255
Step data
Voltage, Current, Step time
Step time
50 ms to 100 s, resolution 10 ms
Curve triggering
Internal
Manual with key or over bus with remote control command
External
Via TTL signal or switch contact
Number of blocks
3
Max. block sweeps
1 bis 65535 bzw.∞
Arbitrary function
255 interpolation points
3 blocks with repeat function
50 ms < t < 100 s per interpolation point
Burst function (also for each individual block)
Software for arbitrary function
Graphic and tabular input of curve
Data input from oscilloscopes
Library with standard curves for automotive industry
Curve input options
Manual
Via RS232 or GPIB interface programming
Convenient TOELLNER software with graphic curve input option
Output
TOE 8871-40
TOE 8871-60
TOE 8871-80
TOE 8871-130
TOE 8871-200
TOE 8871-400
Voltage
0 - 40 V
0 - 60 V
0 - 80 V
0 - 130 V
0 - 200 V
0 - 400 V
Current
0 - 50 A
0 - 35 A
0 - 25 A
0 - 16 A
0 - 10 A
0 - 5 A
Power adjustable in range
100 - 1000W
100 - 1000W
100 - 1000W
100 - 1040W
100 - 1000W
100 - 1000W
Setting resolution
Voltage
Current
Power
< 1000 W
> 1000 W

10 mV
10 mA

0.1 W

20 mV
10 mA

0.1 W

20 mV
10 mA

0.1 W

100 mV
10 mA

0.1 W
1 W

100 mV
5 mA

0.1 W

100 mV
2 mA

0.1 W
Setting accuracy
Voltage
Current
Power

0.1 % + 20 mV
0.2 % + 40 mA
0.4 % + 1 W

0.1 % + 30 mV
0.2 % + 40 mA
0.4 % + 1 W

0.1 % + 40 mV
0.2 % + 20 mA
0.4 % + 1 W

0.1%+100 mV
0.2 % + 20 mA
0.4 % + 1 W

0.1%+100 mV
0.2 % + 20 mA
0.4 % + 1 W

0.1%+100 mV
0.2 % + 20 mA
0.4 % + 1 W
Deviation in regulation
with 100 % change in load
Voltage
Current


1 x 10-4 + 5 mV
5 x 10-4+25 mA


1 x 10-4 + 5 mV
5 x 10-4+20 mA


1 x 10-4 + 5 mV
5 x 10-4+12 mA


1 x 10-4 +10 mV
5 x 10-4+8 mA


1 x 10-4 +10 mV
5x 10-4+2.5 mA


1 x 10-4 +10 mV
5x 10-4+2.5 mA
With change in line voltage
± 10 %
5 x 10-5
5 x 10-5
5 x 10-5
5 x 10-5
5 x 10-5
5 x 10-5
Regulation time with
change in load
from 20 % to 100 % Inenn
Tolerance: 0.2 % Vrated


400 μs


400 μs


400 μs


500 μs


500 μs


500 μs
Setting time of output voltage
change in setpoint
0 V to Vrated no-load/full load
Vrated auf 1 V no-load/full load


2.5 ms/5 ms
100 ms/10 ms


5 ms/10 ms
120 ms/12 ms


10 ms/15 ms
200 ms/20 ms


10 ms/15 ms
200 ms/20 ms


10 ms/10 ms
< 5 s/20 ms


15 ms/20 ms
< 3 s/60 ms
Residual ripple (rms)
10 Hz to 10 MHz
Voltage
Current

5 mV
25 mA

8 mV
20 mA

10 mV
20 mA

15 mV
20 mA

15 mV
20 mA

20 mV
15 mA
Measuring accuracy
Voltage
Current
Leistung

0.1 % + 30 mV
0.2 % + 60 mA
0.4 % + 1 W

0.1 % + 40 mV
0.2 % + 50 mA
0.4 % + 1 W

0.1 % + 60 mV
0.2 % + 40 mA
0.4 % + 1 W

0.1 %+100 mV
0.2 % + 40 mA
0.4 % + 1 W

0.1 %+200 mV
0.2 % + 40 mA
0.4 % + 1 W

0.1 %+300 mV
0.2 % + 40 mA
0.4 % + 1 W
Temperature coefficient
Voltage
Current

10-4/K
10-4/K

10-4/K
10-4/K

10-4/K
10-4/K

10-4/K
10-4/K

10-4/K
10-4/K

10-4/K
10-4/K
Analog interface
Control voltage
(reference potential is the
negative pole of the output)
0 - 10 V for
0 - 10 V for




0 - 40 V
0 - 50 A




0 - 60 V
0 - 35 A




0 - 80 V
0 - 25 A




0 - 130 V
0 - 16 A




0 - 200 V
0 - 10 A




0 - 400 V
0 - 5 A
Floating analog interface
Control voltage
0 - 10 V for
0 - 10 V for


0 - 40 V
0 - 50 A


0 - 60 V
0 - 35 A


0 - 80 V
0 - 25 A


0 - 130 V
0 - 16 A


0 - 200 V
0 - 10 A


0 - 400 V
0 - 5 A
Insulation: 1 kV DC
Accuracy
Voltage
Current

0.2 % + 50 mV
0.3 % +50 mA

0.2 % + 50 mV
0.3 % +20 mA

0.2 %+100 mV
0.3 % +20 mA

0.2 %+100 mV
0.3 % +20 mA

0.2 %+200 mV
0.3 % +10 mA

0.2 %+400 mV
0.3 % +5 mA
Output
TOE 8872-40
TOE 8872-60
TOE 8872-80
TOE 8872-130
TOE 8872-200
TOE 8872-400
Voltage
0 - 40 V
0 - 60 V
0 - 80 V
0 - 130 V
0 - 200 V
0 - 400 V
Current
0 - 100 A
0 - 65 A
0 - 50 A
0 - 25 A
0 - 15 A
0 - 7.5 A
Power adjustable in range
100 - 1500W
100 - 1500W
100 - 1500W
100 - 1500W
100 - 1500W
100 - 1500W
Setting resolution
Voltage
Current
Leistung
< 1000 W
> 1000 W

10 mV
50 mA

0.1 W
1 W

20 mV
20 mA

0.1 W
1 W

20 mV
10 mA

0.1 W
1 W

100 mV
10 mA

0.1 W
1 W

100 mV
10 mA

0.1 W
1 W

100 mV
2 mA

0.1 W
1 W
Setting accuracy
Voltage
Current
Leistung

0.1 % + 20 mV
0.2 % + 50 mA
0.4 % + 1.5 W

0.1 % + 30 mV
0.2 % + 50 mA
0.4 % + 1.5 W

0.1 % + 40 mV
0.2 % + 30 mA
0.4 % + 1.5 W

0.1%+100 mV
0.2 % + 20 mA
0.4 % + 1.5 W

0.1%+100 mV
0.2 % + 20 mA
0.4 % + 1 W

0.1%+100 mV
0.2 % + 20 mA
0.4 % + 1.5 W
Deviation in regulation
with 100 % change in load
Voltage
Current


1 x 10-4 + 5 mV
5 x 10-4+50 mA


1 x 10-4 + 5 mV
5 x 10-4+30 mA


1 x 10-4 + 5 mV
5 x 10-4+25 mA


1 x 10-4 +10 mV
5 x 10-4+12 mA


1 x 10-4 +10 mV
5x 10-4+2.5 mA


1 x 10-4 +15 mV
5x 10-4+3.5 mA
With change in line voltage
± 10 %
5 x 10-5
5 x 10-5
5 x 10-5
5 x 10-5
5 x 10-5
5 x 10-5
Regulation time with
change in load
from 20 % to 100 % Irated
Tolerance: 0.2 % Urated


400 μs


400 μs


400 μs


500 μs


500 μs


500 μs
Setting time of output voltage
with change in setpoint
0 V auf Urated no-load/full load
Urated auf 1 V no-load/full load


2.5 ms/5 ms
150 ms/15 ms


5 ms/10 ms
200 ms/20 ms


10 ms/15 ms
300 ms/30 ms


10 ms/20 ms
400 ms/40 ms


15 ms/15 ms
< 5 s/15 ms


15 ms/20 ms
< 3 s/40 ms
Residual ripple (rms)
10 Hz to 10 MHz
Voltage
Current


10 mV
50 mA


12 mV
50 mA


15 mV
40 mA


15 mV
40 mA


15 mV
20 mA


20 mV
20 mA
Measuring accuracy
Voltage
Current
Power

0.1 % + 30 mV
0.2 % +100 mA
0.4 % + 1.5 W

0.1 % + 40 mV
0.2 % + 80 mA
0.4 % + 1.5 W

0.1 % + 60 mV
0.2 % + 60 mA
0.4 % + 1.5 W

0.1 %+100 mV
0.2 % + 40 mA
0.4 % + 1.5 W

0.1 %+200 mV
0.2 % + 40 mA
0.4 % + 1.5 W

0.1 %+300 mV
0.2 % + 40 mA
0.4 % + 1.5 W
Temperature coefficient
Voltage
Current

10-4/K
10-4/K

10-4/K
10-4/K

10-4/K
10-4/K

10-4/K
10-4/K

10-4/K
10-4/K

10-4/K
10-4/K
Analog interface
Control voltage
(reference potential is the
negative pole of the output)
0 - 10 V for
0 - 10 V for




0 - 40 V
0 - 100 A




0 - 60 V
0 - 65 A




0 - 80 V
0 - 50 A




0 - 130 V
0 - 25 A




0 - 200 V
0 - 15 A




0 - 400 V
0 - 7.5 A
Floating analog interface
Control voltage
0 - 10 V for
0 - 10 V for


0 - 40 V
0 - 100 A


0 - 60 V
0 - 65 A


0 - 80 V
0 - 50 A


0 - 130 V
0 - 25 A


0 - 200 V
0 - 15 A


0 - 400 V
0 - 7.5 A
Insulation: 1 kV DC
Accuracy
Voltage
Current

0.2 % + 50 mV
0.3 % +100 mA

0.2 % + 50 mV
0.3 % +50 mA

0.2 %+100 mV
0.3 % +50 mA

0.2 %+100 mV
0.3 % +20 mA

0.2 %+200 mV
0.3 % +15 mA

0.2 %+400 mV
0.3 % +7.5 mA
Output
Output terminals
Insulation
Floating and electrically isolated
At rear; optionally at front
± 250 V against ground
Overvoltage protection
Resolution
3 V to 1.25 x Vmax
100 mV
Overcurrent protection
Resolution
10 ms to 100 s switch-off delay
10 ms/100 ms/1 s
Line voltage
230 V ± 10 %, 47 Hz to 63 Hz
Power consumption
TOE 8871
TOE 8872

Approx. 2150 W/1250 VA at rated load
Approx. 1900 W/1900 VA at rated load
Protective measures
Protection class 1 in accordance with DIN VDE 0411, Part 1
EMC
DIN VDE 0871 Class B
DIN VDE 0843 T2, IEC 801-2
Operating temperature
0 °C to 40 °C
Storage temperature
-20 °C to 70 °C
Reference temperature
23 °C ± 1 °C
Cooling
By thermostatically controlled fan
Warm-up time
30 min
Dimensions (BxHxD)
With handles and feet
445 x 134 x 515 mm
445 x 147 x 557 mm
Weight
Approx. 15 kg
Housing
Aluminium
1000 W Output Power
| | | |
| --- | --- | --- |
| TOE 8871-40 | Power supply | 40 V / 50 A |
| TOE 8871-60 | Power supply | 60 V / 35 A |
| TOE 8871-80 | Power supply | 80 V / 25 A |
| TOE 8871-130 | Power supply | 130 V / 16 A |
| TOE 8871-200 | Power supply | 200 V / 10 A |
| TOE 8871-400 | Power supply | 400 V / 5 A |

1500 W Output Power
| | | |
| --- | --- | --- |
| TOE 8872-40 | Power supply | 40 V / 100 A |
| TOE 8872-60 | Power supply | 60 V / 65 A |
| TOE 8872-80 | Power supply | 80 V / 50 A |
| TOE 8872-130 | Power supply | 130 V / 25 A |
| TOE 8872-200 | Power supply | 200 V / 15 A |
| TOE 8872-400 | Power supply | 400 V / 7,5 A |

Options
| | |
| --- | --- |
| TOE 8871/015 | GPIB/RS 232 interfaces |
| TOE 8871/016 | Floating analog remote control with monitor outputs for V/I |
| TOE 8871/0171) | Output at front |
| TOE 8871/0181) | Low noise output |
| TOE 8871/0192) | Correctable voltage drop 3 V per line |
| TOE 8872/0222) | Brief load current approx. 1,5 x Irated |

Arbitrary function in the unit
| | |
| --- | --- |
| TOE 9171 | for TOE 8871-xx |
| TOE 9172 | for TOE 8872-xx |

PC Software for curve generation
| | |
| --- | --- |
| TOE 96713) | for TOE 8871-xx |
| TOE 96723) | for TOE 8872-xx |

Cables and adapters
| | |
| --- | --- |
| TOE 8870/102 | Parallel switching adapter 2 x TOE 8871 / TOE 8872 |
| TOE 8870/103 | Parallel switching adapter 3 x TOE 8871 / TOE 8872 |
| TOE 8870/232 | Ethernet adapter for TOE 8871 / TOE 8872 |
| TOE 9101 | GPIB controller for USB |
| TOE 9104 | GPIB controller for Ethernet |
| TOE 9009 | GPIB cable, 2 m |

1) Only 40 V / 60 V / 80 V / 130 V devices
2) Only TOE 8872-40 and TOE 8872-60
3) TOE 8871/015 option and TOE 9171 or TOE 9172 required