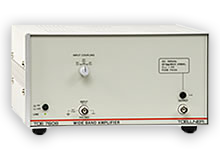 Function/signal generators generally provide signals with a small amplitude into 50-Ohm systems.
Signal conditioning and amplification are therefore required in many technical areas.
The TOE 7608 broadband amplifier is suitable as a non-inverting power output stage for the amplification of such signal sources. Each generator with an output voltage of 20 Vpp is able to cover the full operating range of the TOE 7608S amplifier.
The power is 115 Vrated into 400 Ohm at a max. output amplitude. The bandwidth is 15 Hz up to 20 kHz.
Overcurrent protection at the output, protection against feedback voltages, and overtemperature protection provide the amplifier with a high degree of operational safety. Other output voltages (e.g. 230 Vrms) or frequency ranges are available on request.
Special features
Frequency range 15 Hz up to 20 kHz
Short-circuit and no-load proof
| | |
| --- | --- |
| Frequency range | 15 Hz to 20 kHz (-3 dB) |
| Gain | Non-inverting, fixed at + 25,6 dB, with input impedance > 10 kOhm, + 31,6 dB, with input impedance 50 Ohm |
| Input impedance | |
| AC coupling | > 10 kOhm (pass band) |
| DC coupling | > 10 kOhm or 50 Ohm, selectable |
| Permissible input | max. 10 Vrms, continuous |
| Output impedance | Approx. 70 Ohm, short-circuit proof |
| Output voltage | max. 115 Veff into 400 Ohm load |
| Output noise | < 5 mVrms with short-circuited input |
| Distortion factor | < 0,5 % at Vout < 100 Vrms into 400 Ohm load in frequency range 50 Hz bis 20 kHz |
| Feedback voltage protection | Fused by F 0,5 AC in accordance with DIN 41661, IEC 127-2/11 |
Line voltage
115 V /230 V ± 10 %, 47 Hz to 63 Hz
Amplifier fusing
115 V: T4AC
230 V: T2AC
accordance with DIN 41662, IEC 127-2/11
Power consumption
Max. 180 VA
Operating temperature
0 °C to 50 °C
Dimensions (W x H x D)
265 x 147 x 375 mm
Weight
Approx. 8,2 kg
Housing
Aluminium
Ordering Data
| | |
| --- | --- |
| Broadband Amplifier | TOE 7608S |

Optional
| | |
| --- | --- |
| TOE 9508 | Carrying handle |
| TOE 9501 | 19" adapter, 3 HU |
| TOE 9503 | 19" rack module, 4 HU |